£60 BILLION OPPORTUNITY
A brand new £60 billion opportunity that you can do from home online without any previous experience or skill set

Discover how to build a £7k per month automated online business in just 4 weeks (part-time) by partnering with amazon
Finally, your break is here – learn how to build a real, long-term scalable business by leveraging all of the brand, systems, and Operations of one of the UK's most trusted retailers.
Imagine 2 savvy online entrepreneurs allowing you to look over their shoulder as they walk you through every step – from start to finish – of how they built up their own £30k per month business, letting you in on every secret and nuance of how it works.
In this ground-breaking online programme, our trainers will be pulling back the curtain to reveal the wonderfully simple inner workings of the Amazon FBA (Fulfilled by Amazon) system and master-selling strategy.
Testimonials
Over $200k+ in Sales
★★★★★
"
I saw other people sharing their successes, so I thought I'll join in on it too. I've been selling for almost two years now. It's been a hell of a ride from the beginning, but I can see potential this year. Sales are from the 1st of January 2016. Really looking forward to Holiday Season sales. Plan is to hit over $200k+ in sales by the end of the year, which I believe is more than possible. Good luck to everyone and keep at it. That's the only way you will make it.
"
GBP £1,384.67, 24 Units Today!
★★★★★
"
So I guess I should post something after my best day ever. Thanks to all those who have helped me on my journey. Still got a long way to go still.
"
Thank you Progressive
★★★★★
"
I just wanted to give my sincerest thanks to Steeve Lamontagne, Jenny Plant, Lou Farr and Catherine Turner as well as all people at Progressive for their commitment to e-commerce program. 5 months ago I decided to invest my time and money into the course. It was worth it. Today I checked my Amazon Seller account and I'm officially live. Thank you Progressive
"
Interested in attending the next Ecommerce Cashflow Discovery event?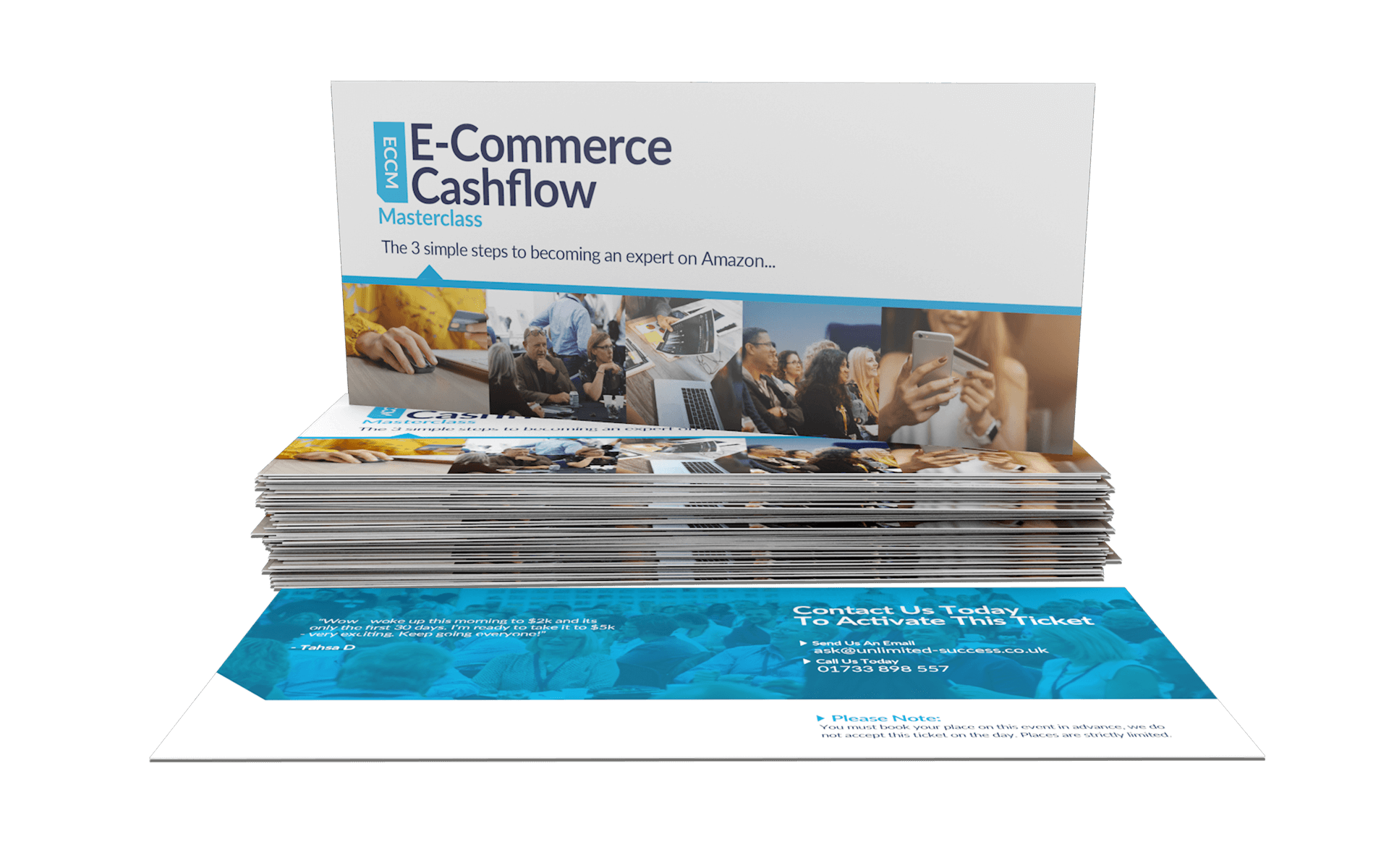 Here's a taste of what you'll discover at the event:
How to choose your market and pick a winning product
How to find a world-class supplier and negotiate like a pro
How to create a high converting Amazon listing
How to create high impact product images
How to get powerful reviews
How to promote your product and skyrocket your sales
How to systemise and outsource your Amazon business
How to build a 7-figure+ per year brand
How to make a splash with the product launch blueprint