Build an online business selling on amazon with arbitrage!
Do you know how to capitalise on and snap up those bargain discounts on the high street?

Learn how to pocket big profits with Arbitrage, to bring in income-replacing amounts per month
You're going to discover the insider tips and tricks to identifying how you don't need any experience or tech savviness to set up a lucrative online business and start making money.
Learn how you can start earning money instantly using the arbitrage system and how to make your new business work and fit around your lifestyle.
It's a simple concept really, source a product that you can list and sell on Amazon, but that you can buy for much cheaper.
With retail as we know it crumbling around us, now is the time to cash in.
Testimonials
Over $200k+ in Sales
★★★★★
"
I saw other people sharing their successes, so I thought I'll join in on it too. I've been selling for almost two years now. It's been a hell of a ride from the beginning, but I can see potential this year. Sales are from the 1st of January 2016. Really looking forward to Holiday Season sales. Plan is to hit over $200k+ in sales by the end of the year, which I believe is more than possible. Good luck to everyone and keep at it. That's the only way you will make it.
"
GBP £1,384.67, 24 Units Today!
★★★★★
"
So I guess I should post something after my best day ever. Thanks to all those who have helped me on my journey. Still got a long way to go still.
"
Loving the Christmas sales!
★★★★★
"
Loving the Christmas sales! Almost hit £10k this week across Europe. I'm not sharing to show off (although I am excited!) but I know posts like this motivated me when I was looking for my first product. It is almost six months since my first order of 60 units went live on Amazon. I am a mother of three young children aged 1,4 and 6 and also mid way through a commercial conversion project and building my own house so it is very possible to do this part time!
"
Interested in attending the next Arbitrage Discovery Day event?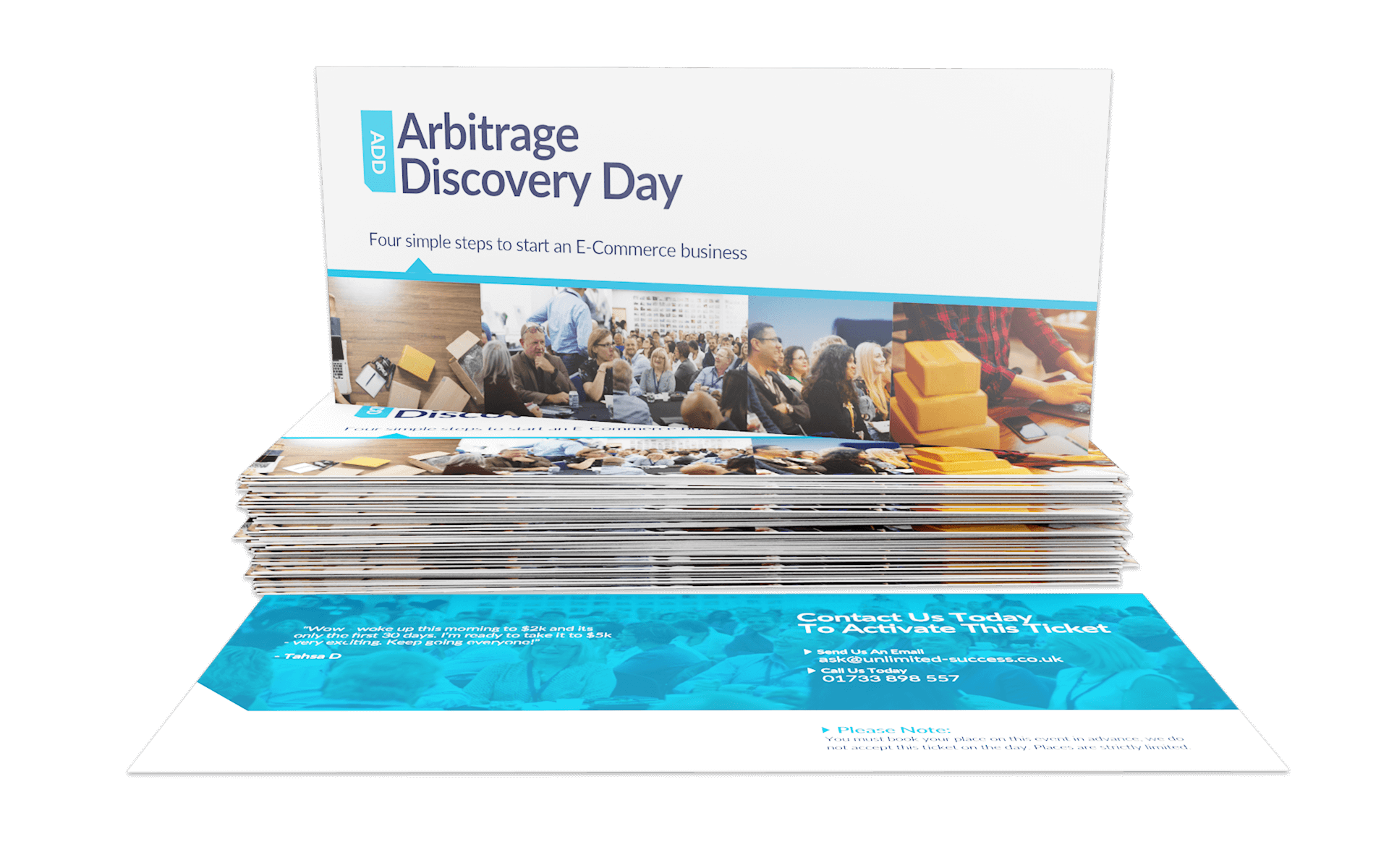 Here's a taste of what you'll discover at the event:
Learn how and where to source and sell products for up to 40% ROI
Learn how you can make instant cash without ever having to hold on to stock
Learn how to build and scale your Arbitrage business without having to work long hours and spend thousands on stock and training.
Learn how to take full advantage of:
* Back To School
* Black Friday
* Cyber Monday
* Halloween
* Christmas