BURY YOUR FEARS AND CAPTIVATE WITH CONFIDENCE
Attending the Expert Speaker Discovery is possibly the fastest way to go from inexperienced speaker to a confident speaker.
BOOST YOUR REPUTATION AS A SPEAKER
During the event you're taken by the hand and shown step-by-step the secrets to making memorable speeches which attract standing ovations. So afterwards you'll be able to confidently speak. And boost your reputation as a speaker and be well-rewarded in the process.
Testimonials
Inspirational
★★★★★
"
You are awesome! You have really inspired me to take the first steps in my E-Commerce & Public Speaker journey after I saw you at the Mobile Lifestyle Summit in July.
"
Great Course
★★★★★
"
This might not be the right place to post this, but I had a great day at the first Expert Speaker Academy day yesterday. Thanks for putting on a great day! I always come away with more knowledge, motivation and skill.
"
Recommend!
★★★★☆
"
Just bought "Life Leverage". I've listened to the audio version quite a few times and I recommend to anyone who wants to make life better. Great stuff, thank you!
"
Interested in attending the next Expert Speaker Discovery event?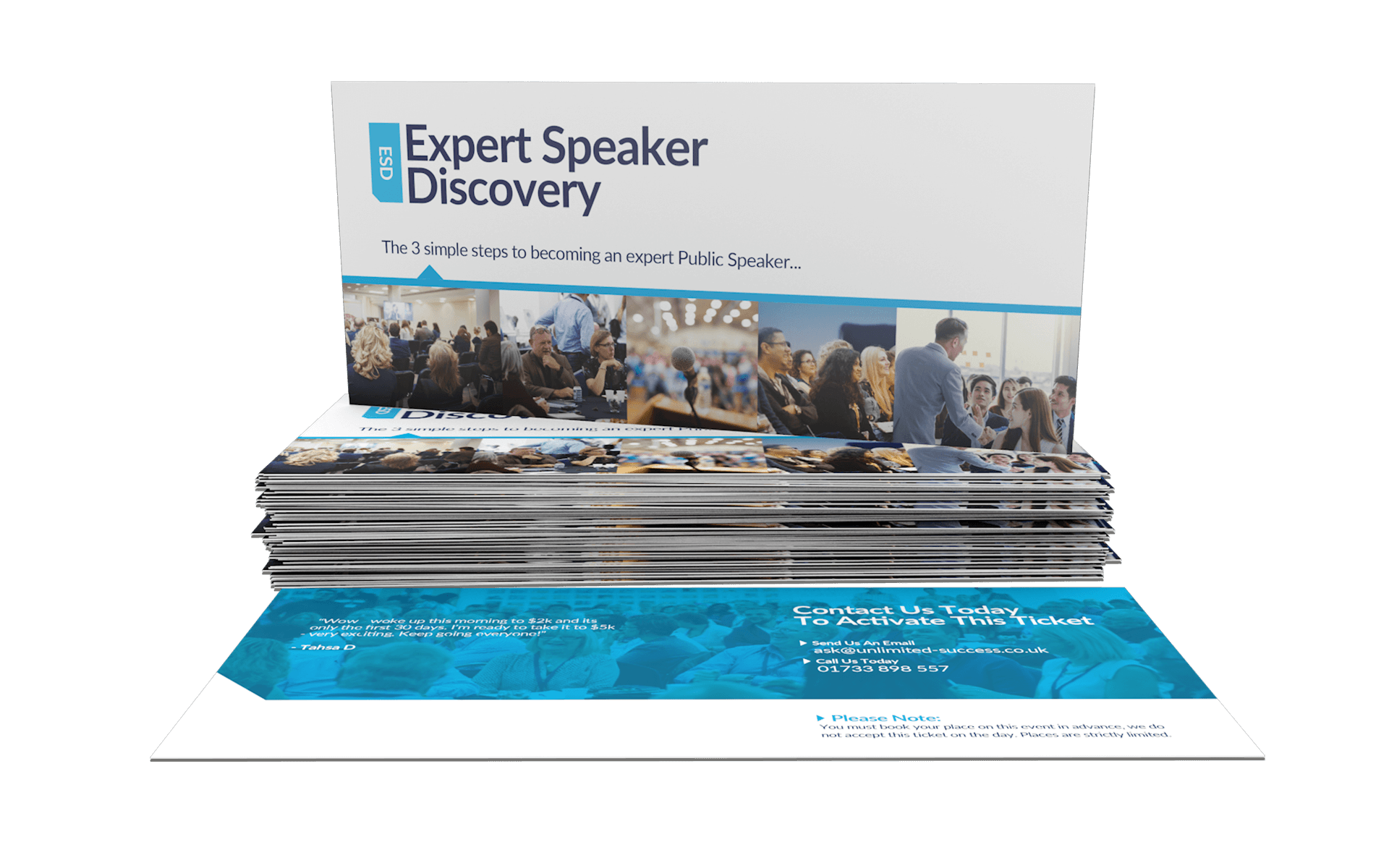 Here's a taste of what you'll discover at the event:
5 common mistakes to avoid when speaking. One of them is overfill people's heads with data and facts.
When to speak for FREE… and still walk away with thousands of pounds.
Most lucrative type of speech to give. Allows you to build a massive speaking business.
The "exercise" secret that guarantees standing ovations. Not physical. Takes just minutes to do.
You need courage to speak, right? Wrong. Why courage is the least of your concerns. And what's more important instead.
What the best speakers have that allows them to motivate, inspire and sell. Secret you can use too.
The hidden architecture of every speech you give. Just include these 7 parts in every speech
How to grab your audience's attention immediately. Simply include one of these in the opening couple of minutes.
Speech starting to go wrong? Use this utilization technique. Allows you to recover control – without losing the audience.
Never forget your speech content with the Pentagon Content Model. Prevents any embarrassing pauses.
The "4 to 1 script" that allows you to emotionally connect with your audience. Presents you as a genuine, likeable person.
6 things to always include in your speech. One of them is to make your speech memorable